Welcome to Norwyn Court Holiday Apartments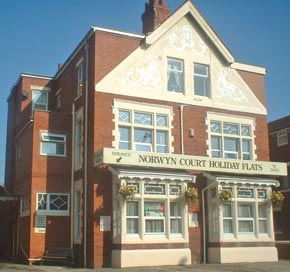 QUALITY ACCOMMODATION AT AFFORDABLE PRICES !!!
Keith, Mandy and Penny extend a warm and friendly welcome to the Norwyn Court where our helpful service compliment the Norwyn Courts high standards.
As family run Holiday Flats we take much pride in our reputation for providing comfortable accommodation in our tastefully furnished apartments.
Our apartments range from 2 to 6 people.
We have 3 ground floor apartments.
All ground floor suitable for wheelchair access via fold away ramp provided.
Every effort is made to ensure our guests stay is as pleasurable as possible, with friendly, personal service and attention to every detail.
COVID-19  GOVERNMENT GUIDELINES … SELF CATERING UNITS
When we open up again please rest assured that all safety & cleaning regulations have been adhered to we will be fully sanitising all apartments on change over.   Bedding will also be sanitised & will be left to air out rather than beds being made up bedding packs are provided, guests may prefer to bring their own bedding (duvet covers, pillow cases & sheets) for guests to make up their own beds,  If you are happy to do this please let us know before arrival.   Towels are also NOT provided.
We will have safe distance signs around the reception & stairs, face coverings are optional in public areas inside the building (reception & corridors)
Public areas will be sanitised regularly & hand sanitiser will be provided by the main door as you arrive & leave the building so requested to use it before opening the door & using key pad.
On check in we will ask for everyone to go direct to your flat so not congregating in reception & that only one person comes to reception to check in, keys will be hanging on a key board & sanitised they can be picked up from there & put back on check out.
We hope this will not disrupt  your holiday too much & hope you still have a lovely time in Blackpool.